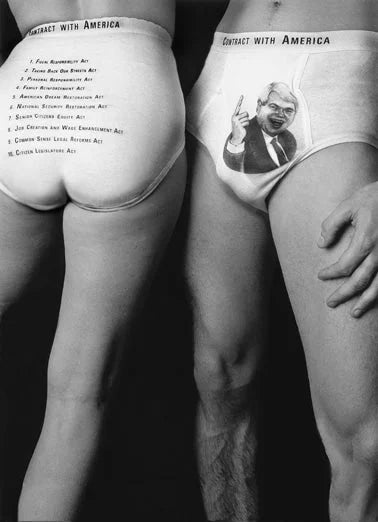 Contract with America Underwear 33 inch waist
Contract with America underwear is a signed limited edition artwork consisting of Men's and Womens cotton underwear.

These are the briefs that made underwear history as a political statement, catapulting Newt Gingrich onto the crotches of thousands.
Before Bush thongs were even a thought, Contract with America underwear were the first underpants, ever, to bare a political message – in men's and women's size 33.
The cotton briefs have elastic bands silkscreened with the name of the legislation. They were so popular that the Republican National Committee threatened the artists with copyright infringement.
Signed and numbered by the artists. 10 in stock.
FREE Shipping on orders over $100.

The price includes shipping.